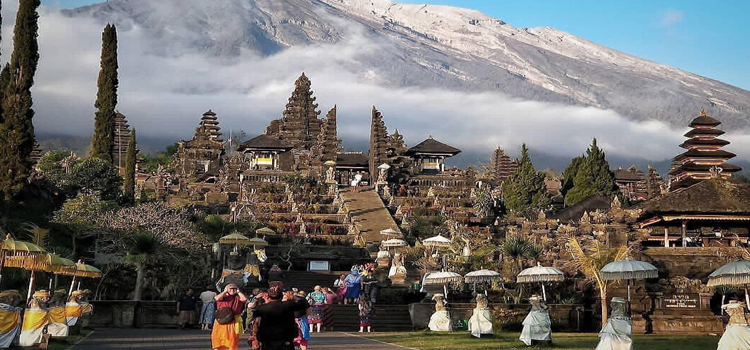 Start Tour : 08.30 AM
Tour Price : IDR 600.000 /Car ( max 6 Person )

Besakih Temple, known as Bali's 'Mother Temple' for over 1,000 years, sits 1,000 metres high on the southwestern slopes of Mount Agung. Besakih is an artistic and unique complex that comprises at least 86 temples which include the main Pura Penataran Agung (the Great Temple of State) and 18 others. Besakih is the biggest and holiest of the island's temples and is surrounded by breathtaking and scenic rice paddies, hills, mountains, streams, and more
Mount Batur and Lake View
Mount Batur volcano is one of the sacred mountain according to Hindu believe. Mount Batur is located in Batur village, Kintamani District, Bali, Indonesia. Mount Batur (Gunung Batur) is 1717 m above sea level can be summited by physically fit hikers in around 2 hours.
Mount Batur Bali is an active volcano that draws tourists in with both beauty and promise of Bali adventure Tours. We offers climb Mount Batur Bali to enjoy an unforgettable sunrise from the top of an active volcano. Spectacular scenery and the vibration of the sacred earth filling your mind and soul as u served by tasty morning breakfast cooked by the steam of the active volcano.
Penglipuran Traditional Village
Bali Penglipuran Village that located around 6 kilometer from the closest city Bangli or 1 kilometer from Kubu village has 700 populations by the last census 1999 by the number of the head family 192. Penglipuran village is a traditional village which has their own character, belong to the district Kubu- Sub district Kubu amd Bangli regency. The beauty of the village and the surrounding act that penglipuran village is untouchable village by the modernization era. Supported by the fresh air by the height 700 meter above the sea level, give the comfortable for the villager and visitors.
Kehen Temple
Kehen Temple is an ancient Hindu temple complex boasting unique architectural features. The temple courtyard is reachable from ground level up a flight of 38 stairs, with carved sandstone mythical animal and Balinese folklore figure statues around the staircases and the central vestibule. The temple's walls are also ornate with Chinese porcelain plates, which are a tribute to the historical relations between the local Bali kingdom and China.
Include :
English Speaking Driver
Fuel
Parking Fees
Toll Fees
Term of Payments :
Payment is in Cash
Payment is settle at end of the day to the driver
Payment can be settle at the end of all services if you take more than one day tours
Payment with other currency will be convert to the current rate